We are on our way home! The growing distance between sea ice and the Nathaniel B. Palmer has activated a flurry of activity below deck. Packing, sorting, organizing, writing. We are all busy compiling reports, sorting our personal items and exchanging mementos. The mid-point of the cruise seems like it was just yesterday; time must have warped to bring the end of the trip closer than it should be! Overnight, it seems, we went from Pine Island Bay to north of 60 °S and well through the Drake Passage. The gentle rocking that is cradling us on our journey north mocks the reputation of the mighty Drake—one that I don't mind waiting to verify.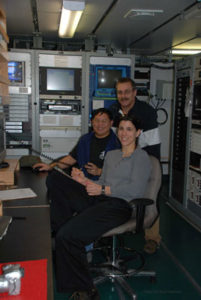 Three of the the "A team" members (our leader, Bruce Huber, was…working…oops.),
from left to right: Victor Shen, Michael Schroeder and yours truly (photo by Raul Guerrero).
As land draws nearer, I am conflicted by the want of land, family, and friends and the sadness of leaving this trip behind. It did not occur to me that when I saw my first Albatross yesterday I should have tempered my excitement with a farewell to the Snow Petrel. Today, I stood on the bow in just my fleece jacket, no gloves, and basked in a fleeting sun for a good half an hour while black-browed, grey-headed and Royal Albatrosses glided by on the 7 °C air currents above the water. What a beautiful sight! And yet, I couldn't help but feel like something was missing. I kept looking for porpoising penguins, but none came. The reality of my new surroundings is not helping to stave off the feeling that I should see sea ice. I can still envision the Snow Petrels so clearly…Penguins are scurrying along the sea ice through the porthole in my mind's eye…and, surely, a blast of cold air is going to slap my cheeks when I go topside to take a photo…right?!?!
Wrong.
We have left the polar waters behind and are charging through 6.5 °C water towards the coastline of Chile. The monitor in the Dry Lab says that "cold beer in P.A." is only 35 hours away. It is time to take the memories and leave the experience behind. Perhaps I should have relished more in my last sighting of a Snow Petrel or Adelie Penguin; I should have appreciated more fully the last time my fingers went numb. As it is, I am not quite ready to say good-bye to Antarctica! I suppose I will have to say what my grandmother always would: "It is not 'goodbye', it's 'see you later'."
Awaiting me on the shores of Chile is the beginning of a new adventure and my husband, both of which I am eager to see. If the past couple of days are any indication of the next couple of days, I will be busy! Yet through the hustle and bustle and before stepping on terra firma, I might have it in me for one more posting. If not, then "see you later."